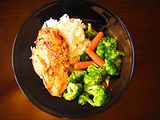 CLICK TO ENLARGE

Teriaki Chicken
1/2 cup Mrs. Dash Spicy Teriaki Merinade
1 tbs orange juice
1/8 tsp of liquid smoke (if broiled only)
4 Chicken Cutlets*
Toasted Sesame Seeds for garnish
* I recommend chicken cutlets because then you end up eating 1/2 a chicken breast (the recommended portion) but it looks like you are eating an entire chicken breast and my first rule is "you eat with your eyes FIRST!" To make your own chicken cutlets: half a chicken breast length wise, then pound the cutlet to about an 1/8 of an inch thickness, you'll end up with a large "steak". (I'll make a video ASAP b/c it's hard to explain :D )
To make the sauce simply mix the marinade with the orange juice and liquid smoke if you are broiling the chicken, if you are grilling then leave it out in a small bowl and set aside.
To broil:
Broil the chicken cutlets about 5-7 minutes on each side (depends on how far the chicken is from the broiler), you want to cook it until it's starting to char but doesn't char completely. Once the chicken is begining to char on the second side brush on the sauce on each side and cook for another 2 minutes (just long enough for the sauce to heat up).
If grilling:
Grill the chicken about 3-4 minutes on each side, just so you get the grill marks (b/c the chicken is so thin it will cook quickly so keep a close eye on it!) Brush on the sauce as it's done cooking and heat through.
Sprinkle some sesame seeds on top for garnish and serve with Jasmine rice (cooked to package directions) and Garlic Ginger Veggies (recipe follows)
Garlic Ginger Veggies
1 tsp finely chopped garlic
1 tsp finely chopped ginger
3 tbsp Smart Balance (or your favorite buttery spread)
4 cups broccoli florets
3 cups baby carrots
Pepper to taste
In a small bowl combine butter spread, garlic and ginger and microwave for about 30-45 seconds (long enough for the butter to melt) and let it sit.
Meanwhile steam broccoli and carrots, I do it in the microwave in a glass container.
When the broccoli and carrots are steamed (I like to do it so that my broccoli just turns bright green this leaves all the veggies crisp, toss with the butter mixture and as much pepper as you like.
It's an easy an flavorfull recipe that will go with any Asian inspired dish :).
Do you have a special request or a recipe that you love and would like to get it made over into a heart healthy version?
CLICK HERE
and I will try help you!