Tuesday, July 21, 2009
Wednesday, May 27, 2009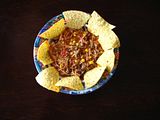 CLICK TO ENLARGE

Southwest Soup
This makes about 8 servings
1 med onion finely chopped
3 garlic cloves finely chopped
1/2 lb of lean ground beef (or turkey, or tofu)
2 cups cooked black beans drained
2 cups frozen corn
1 can tomato sauce
1 can diced no-salt added tomatoes
1 7oz package of uncooked vermicelli (a.k.a. fideo)
5 cups oragnic low sodium chicken stock
2 cups water
2 tsp smoked chipotle powder (I use McCormick's)
1 tsp ancho chile powder (I use McCormick's)
1 tsp New Mexico Chile powder
1 tbsp cumin
1/2 tsp Wurshitishire sauce
Olive Oil
1/2 a lime
In a medium pot sautee onion until it's translucent
Add garlic and sautee until fragrant
Add ground meat to brown--drain out fat once, it's cooked
Stir in spices (chipotel, ancho and NM chile powders and cumin)
Pour tomato sauce, diced tomatoes, water, chichen stock and Wurstishire sauce. Stir to combine.
Once liquid is boiling stir in vermicelli.
Cook about 10-13 mins on medium high heat until vermicelli is cooked.
Stir in corn and beans, cook until corn and beans have heated through.
Squeeze half a lime (about 1/2 tsp)onto soup & stir to combine just before serving (it will brighten up flavors).
I love to serve this recipe with home-made tortilla chips (just bake quartered corn tortillas that have been sprayed with olive oil until crispy) and a refreshing salad with avocado.
Do you have a special request or a recipe that you love and would like to get it made over into a heart healthy version?
CLICK HERE
and I will try help you!
Sunday, April 19, 2009
Wednesday, April 15, 2009
Monday, April 13, 2009
Tuesday, April 7, 2009
Tuesday, March 3, 2009
Monday, February 9, 2009