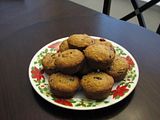 (CLICK TO ENLARGE)

1 cup dried cranberries
1/2 cup orange juice (fresh is best)
1 cup oatmeal flour
1 cup whole grain flour
2 tsp baking powder
1/2 cup 50/50 Smart Balance butter blend- unsalted, softened
1 tsp grated orange zest
2/3 cup granulated sugar (or Splenda)
2 large eggs, at room temperature (or 1/2 cup of Egg Beaters)
1 tbsp ground flax seed
1/4 tsp vanilla
1/2 cup fat free milk
1/2 cup chopped nuts (walnuts or pecans work best)
Cooking spray
Preheat the oven to 375 degrees F.
Put the cranberries and orange juice in a small microwave safe bowl and microwave for 1 minute and set aside to cool and plump.
Lightly spray a 12-muffin tin (the small muffins) with cooking spray.
To make oatmeal flour simply put a cup of old fashion oats in a food processor and pulse to grind the oats into flour. I like to leave it not completely ground up because it gives the muffins a grainy texture.
In a medium bowl, combine flour and baking powder and mix with a wisk to "sift". This is important to fluff the flour and get softer, fluffier muffins as whole wheat and oatmeal flour can be very heavy.
In a large bowl, cream butter with the orange zest and sugar until light and fluffy (about 2 minutes). Scrape down the sides of the bowl with a spatula. Add the eggs, one at a time, beating well after each addition.
Fold the flour in a 3 parts into the butter mixture, alternating with the milk in 2 parts, until just combined. Fold in cranberries and chopped nuts.
Be careful not to overmix! Divide the batter evenly into muffin tin and bake until golden brown (about 20-25 minutes).
ENJOY!
Do you have a special request or a recipe that you love and would like to get it made over into a heart healthy version?
CLICK HERE
and I will try help you!