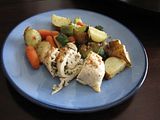 (CLICK TO ENLARGE

4 boneless skinless chicken breast (or 8 chicken thinly cut cutlets)
3 tbsp
Tastefully Simple's
Pine Nut & Basil Pesto Mix (prepared as directions state)
1 cup pine nuts (toasted and finely chopped)
2 cups part skim motzarella (or
Vegan Gourmet's
Motzarella)
1 tbsp low fat (or fat free) parmesan cheese (for pesto)
1.5 tbsp olive oil (for pesto)
2 tbsp water (for pesto)
2 tbs fresh chopped basil
cooking spray
Prep chicken...
if you get the cutlets you won't need any prep. If you got the chicken breasts...
Slice chicken breasts in half to create two cutlets (about 1/2" thick).
To create an even thin cutlet place the cutlet in betweent two pieces of plastic wrap and pound to desired thickness.
Assembly...
Preheat oven to 450 degrees.
Take a chicken cutlet and spread a thin layer of pesto followed by a thin layer of motzarella (NOTE: You should have about a cup of motzarella left for toping)
Roll chicken up and place on an oven safe baking dish (make sure and spray baking dish with cooking spray).
Once you have all the chicken cutlets rolled up, place baking dish in a preheated oven for 15 minutes.
While chicken is cooking mix remaining motzarella and parmesan (if you are including it), and roasted and chopped pinenuts and basil, mix well.
After the 15 minutes are up, spread topping on top of the chicken and cook for 5 more minutes until cheese is melted.
Serve with roasted spaghetti squash, roasted vegetables, or white rice and enjoy!
Do you have a special request or a recipe that you love and would like to get it made over into a heart healthy version?
CLICK HERE
and I will try help you!