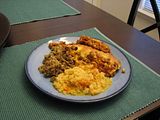 (click to enlarge)


3 cups Chili (check out my recipe for a heart healthy version!)

12 Corn Tortillas

6-8 cups shredded Cheese (it depends on how much YOU love cheese :D)

Cooking Spray



Preheat oven to 375 degrees. Spray a 3 qt. glass baking dish with cooking spray, coat the bottom of the dish with a thin layer of chili. Heat tortillas one by one on a pan or "

comal

" (cast iron skillet), as they are being heated stuff with 1 tbs of chili and some cheese (just sprinkle across

on top

of the chili), roll up each tortilla around its stuffing and lay them in the cooking dish

seam side

down, and side-by-side so they do not unroll. Once you have all the enchiladas in the dish spread the remaining chili on top of the entire dish and top with the remaining cheese. Put in preheated oven until cheese has melted and has begun to brown.



Serve with

refried

beans and rice.


Do you have a special request or a recipe that you love and would like to get it made over into a heart healthy version? CLICK HERE and I will try help you!